Why throw a party... when
you can throw
A BASH!
"I absolutely love this company! They are so polite, friendly and helpful! The furniture was in great condition and even though I called ahead but ordered a bit late (my child's graduation, senior stuff, etc. had me running like crazy..lol) Jill and the staff had just what I needed. Everyone loved the decor! Plus, early delivery without an extra charge and convenient pick up was so great for my busy schedule."
—Kim V
More
VIP Rentals
Event Rental Equipment
Helium Tank Rentals
Get Started >
The BASH! Party Rentals & Sales
2730 North Berkeley Lake Road
Suite B-500, Duluth, GA 30096
Phone
(404) 437-6136
| Fax (770) 476-0115
Email:
info@bashpartyrentals.com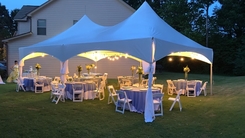 View our Photo Gallery
NOW HIRING! We are looking for two new team members to help provide excellent customer service/ delivery service to our clients. We have two positions open: Delivery Driver (Hourly) & Logistics Manager (Salaried). Please email Owner Jill Flournoy directly to get more info about the delivery driver position (Flournoy.Jill@Gmail.com). Please use the following link to get more info and application details for the Logistics Manager position: https://the-bash-party-rentals.workable.com/j/DB8174F204.
---
Our new Sumo Suits have arrived and they are AWESOME! We now carry Sumo Rental Suits For Kids, Teens & Adults! Check out all the details under the "Party Rentals" Tab at the top of this page.
---
For your convenience, our normal office hours are Monday - Friday 11am - 7pm and Saturday-Sunday 9am - 2pm.