Why throw a party... when
you can throw
A BASH!
"We used Bash for a Howard + Brisk Bodega event during the MBA Conference. Even during a crazy weekend with some last minute changes they were extremely timely and accommodating. They arrived at the venue before we did and already had the furniture unloaded and set up! Everything looked very clean and the drop off and pick up were effortless. We'll definitely be using Bash for future events and we recommend that you do as well! Two thumbs up!"
—Susie Q
More
VIP Rentals
Event Rental Equipment
Helium Tank Rentals
Get Started >
The BASH! Party Rentals & Sales
2730 North Berkeley Lake Road
Suite B-500, Duluth, GA 30096
Phone
(404) 437-6136
| Fax (770) 476-0115
Email:
jillflournoy@aol.com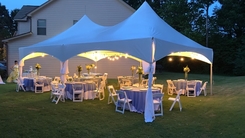 View our Photo Gallery
Give yourself the gift of a stress free Christmas tree this year. When you book our extended rental Christmas tree package, we will swoop in like Santa himself, light the tree, decorate it and come take it all away after the holidays! You can find details about our packages under the "Party Rentals" tab at the top of this page. Type "Christmas" into the search box for a quick find.