Why throw a party... when
you can throw
A BASH!
"BASH was amazing to work with. We had our initial order as well as a last minute change to both delivery & pick-up. And at all times, they were professional, helpful & able to meet our needs. The BASH team went out of their way to accommodate us so that we could work both within & outside of regular business hours. Their willingness to be flexible, offer suggestions & work within what my business needed, even though outside of the 'norm' at times, was truly helpful tome & my team & made the partnership seamless"
—B Hirsch
More
VIP Rentals
Event Rental Equipment
Helium Tank Rentals
Get Started >
The BASH! Party Rentals & Sales
2730 North Berkeley Lake Road
Suite B-500, Duluth, GA 30096
Phone
(404) 437-6136
| Fax (770) 476-0115
Email:
info@bashpartyrentals.com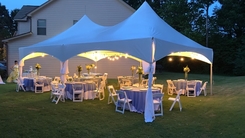 View our Photo Gallery
We now carry five different sizes of helium tanks for rent ranging from small to super. You can see sizes, prices & fill charts for the different tank sizes by clicking on the "Sale Items" tab at the top of our website then click on helium. The helium in the tank is for sale but you rent the cylinder and regulator which need to be returned to us at the end of the rental period.