Why throw a party... when
you can throw
A BASH!
"In TV things can be pretty crazy. I'm basically a business' worse nightmare because of the constant changes. Jill took them like a champ and BASH came through and made our set gorgeous. If you're looking for top-quality decor they've got it. While that's obviously important I'd say it's their customer service and communication that floored me. I cannot wait to see the product on the air. Thanks, guys!"
—Lee Jensen of Power Productions
More
Themed Party Packages
Event Rental Equipment
Helium Tank Rentals
Get Started >
The BASH! Party Rentals & Sales
2730 North Berkeley Lake Road
Suite B-500, Duluth, GA 30096
Phone
(404) 437-6136
| Fax (770) 476-0115
Email:
jillflournoy@aol.com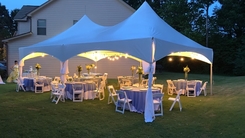 View our Photo Gallery
The Bash now carries Step and Repeats and Photo Backdrops for all occasions. Both stock images and custom designs are available. The Bash offices are open Monday- Friday from 9am - 5pm. We offer a full line of event rentals, sales items, delivery and event planning services. Please use the tabs at the top of the page to choose a category to browse.